At Gateway North Storage in Firestone, Colorado, we have been proudly serving our customers with the best storage services for two years with the best track record, and we keep improving our facilities to satisfy every customer. We offer the right units for every need — business, heirloom storage, seasonal items, you name it!
We know how important it is to make sure your belongings are safe and accessible at the moment you need them, and we also have a variety of climate-controlled units at your disposal to make sure that whatever you store is kept under the right temperature to avoid damage. Below you will find all the storage units we offer and their prices, as well as the advantages of using our units here at Gateway North Storage in Firestone, Colorado.
STORAGE UNITS WE OFFER
Gateway North Storage in Firestone has a wide range of units with different measurements and prices that you can choose from. Whether you are looking for a place for furniture, work equipment, family heirlooms, or collectible items, the solutions we provide can satisfy every situation.
At Gateway North Storage in Firestone, we serve our community with diligence in providing the best storage units in the area. It does not make a difference what your needs may be, we have the right solution for you — long-term storage, short term, or even climate-controlled units, we have them all!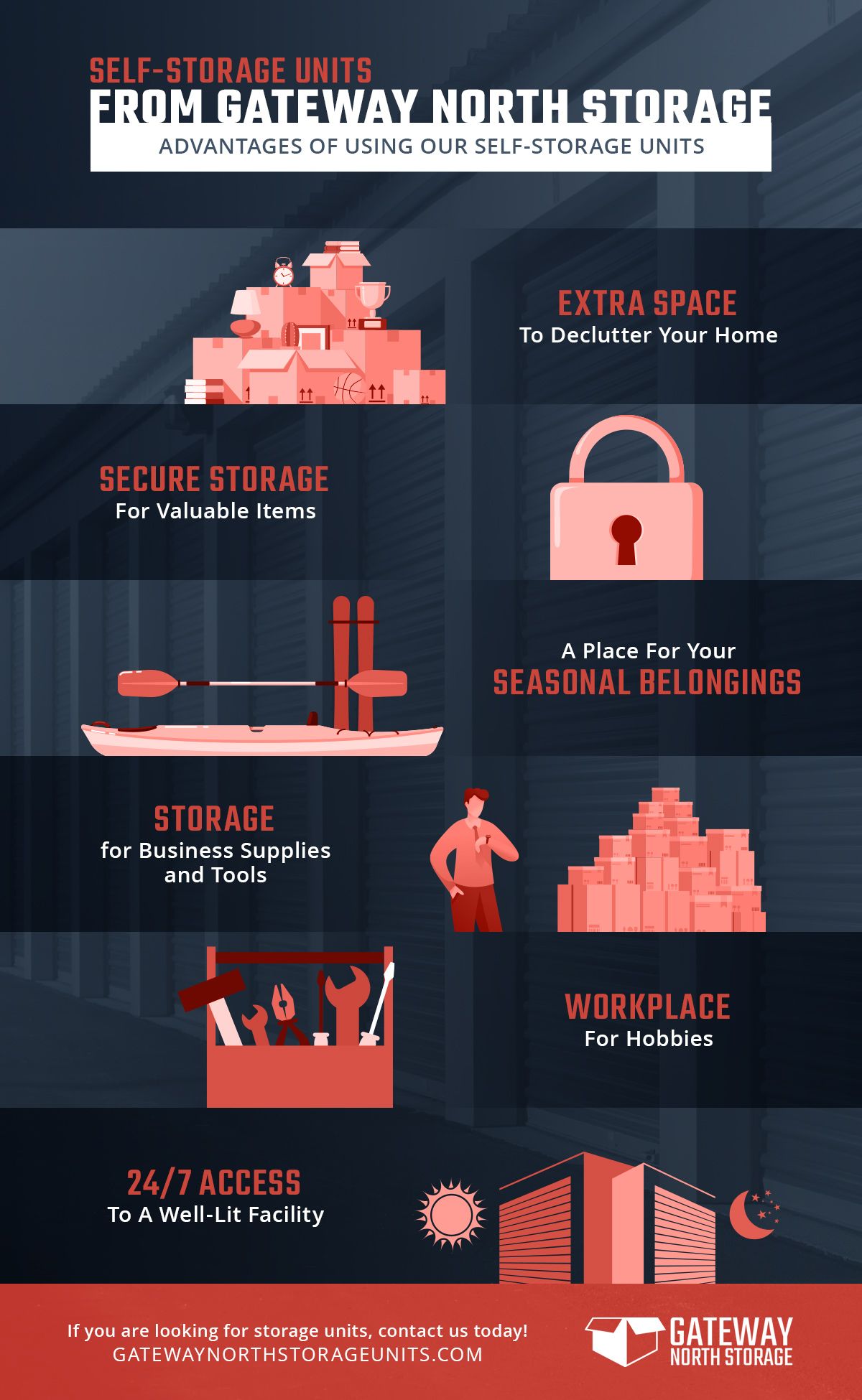 DIFFERENT USES FOR SHORT-TERM STORAGE
Moving in-between places - You are building or remodeling the house of your dreams, and the place where you need to live for the time being is not big enough to hold all the furniture and other things that you can't live without. When this happens, don't look for a way to rid yourself of those items that have been a part of your life for a long time. You can get a storage unit for the time it takes for your plans to fall into place, and you can move to that new place with all the things that you love.

A new addition to the house - Receiving family, helping a friend through a rough patch, or simply turning that old studio you don't use anymore into a guest room — these are a few examples that you can come across that prove the utility of a storage unit. With non-permanent changes that require extra space, you can confidently put your belongings away in a safe place.
Small house projects - You decided to start remodeling your house after living there for a few years, but you don't have room to put all the materials, plus the tools, anywhere in the house. Here at Gateway North Storage in Firestone, we not only offer the best storage units of the area, you also have the possibility to pick up and drop off your property at any time of the day — that's the advantage of a 24/7 service!
Your living arrangements change - Things can drastically change in life, whether that be moving to your own smaller place, having changes in relationship status, or just fashioning a fresh set of furniture without wanting to get rid of the old set. No matter the case, a storage unit can provide a secure space when you need to have your belongings put away for as long as you need.
Uses For Long-Term Storge
Business storage - If your business has been growing and has come to the point where it's not a garage or basement enterprise anymore, you can upgrade your arrangements to satisfy your new needs. A storage unit can prove to be a well-priced ally for small growing businesses, and it's also a great way to separate your home from your business's warehouse, in order to have more space for your family and living areas.
That's another advantage that we at Gateway North Storage in Firestone offer — 24/7 access to your units. This is crucial for a business because you won't have to worry about those late-night orders or the early bird change of equipment. We offer different size storage units and even climate-controlled units, just in case you have more delicate items that need to be in a stable environment.
You are often in transit - If your job requires you to be moving around the country often — or the world, if you are lucky — you may realize that the place where you live has a lot more space than you need, which means more maintenance and more in monthly expenses than you need to be paying. You can make a decision to move to a place that is right for you and allows you to have a home base, yet, all your furniture and belongings might not fit in the new place.
In the future this arrangement can change, and you may want to move back to your previous lifestyle. For the time being, you can have a place where you can safely store anything you need to put away until it's time for a change.
Owning seasonal items - We all enjoy our seasons differently and are attracted to each one for particular reasons. Some people like winter more for the excitement of mountain life like skiing, snowboarding, snowshoeing, and snowmobiling. Others like summers and the jetskis, paddleboarding, fishing, and going off-road on dirtbikes. If you enjoy both and take part in all seasonal activities, that's even better!
Some of these items don't take up much space, while others can fill up the garage too quickly. That's why having a storage unit can help you manage your toys and sports equipment better, so your home doesn't have to look like a warehouse.
There are more situations that can be improved by a storage unit. We at Gateway North Storage in Firestone are always looking for ways to meet your needs and make sure that the unit that you are renting from us is the right one.
Advantages of Our Storage Units
We don't have long-term contracts! - All our contracts are on a month-to-month basis, that way you can use our facilities whenever you need without paying for months you don't use.
Price and Payments - We have great, competitive prices to make sure that storing your belongings does not become a burden. At Gateway North Storage, we make it easy for you to pay, either directly through the management team on-site, our corporate office, or our online automatic billing system.
24/7 Access - Our office is open Monday and Tuesday 8 AM - 5 PM, closed Wednesday, and Thursday and Friday 8 AM - 4 PM. Saturdays 8 AM - 4 PM. At these hours, you will be able to contact our site managers and be helped by the staff. If you need access to your unit at any time of the day, the facilities are accessible for you to use them at your convenience.
Top-Notch Security! - Here at Gateway North Storage, we pride ourselves on the services and security levels we provide our customers. Our facilities are protected by outstanding security techniques and up-to-date technologies, so you don't have to worry about theft or damage to your property. Check our security page for more information about our system.
We Not Only Store... - In addition to offering you the best storage unit facility in Firestone and the surrounding areas, we also have the supplies and materials you need to make moving, packing, and storing your items a simpler task — we got you covered!
Our Location - We are located right of I-25 and Highway 119 in Firestone, Colorado — less than 15 minutes from Longmont and 35 minutes from Denver. We are at the right location for your convenience!
Climate-Controlled Units - For those items that need to be stored in a controlled environment to avoid damage, Gateway North Storage has the right solution for you with climate-controlled units!
Convenient Availability - If you are in need of a storage unit and there's one available that fits your needs, why wait? You can start using the unit on that same day you need it.
You don't have to get rid of your possessions if you don't want to. Consider renting a storage unit to help you through moving, hard times, or simply keeping up with your growing business. Gateway North Storage in Firestone, Colorado, offers you solutions to your storage needs with a competitive price, high levels of security, and customer satisfaction that will ease your mind knowing that your belongings are in the right place, accessible to you anytime you need it.
For more information about our units and services, please contact us. One of our staff members will be happy to assist you!
Reach Out For Secure Storage
At Gateway North Storage, we hope that you can see we've gone to the greatest measures we can to make our self-storage units the most secure and convenient options possible. If you're in Northern Colorado or the immediate Firestone area, please contact us for all your future storage needs!